Sampai Jumpa Jogja!
Soon it will be time to start packing my bags and to move on from this place I've called home for the last five months. The exams, the essays are all done. Some friends have already left. And it's all becoming real.
It's going to be hard to say goodbye to all the friends I've made here and to say goodbye to this carefree life. University life is more relaxed then back home. I don't cook here, because eating out is cheaper than buying groceries. Weekends are spent either with good friends in Yogya or somewhere else in Java that I haven't yet explored. And I even find that I've started to reminisce about the people I come across in day to day life. The friendly laundry lady, my constantly laughing pak kos, the people that work at circle K, the pak who makes tea in the tea room at school, and even my eccentric professors.
Over the weekend I hiked Gunung Merapi the 5,600 ft tall active volcano north of Yogyakarta. Watching the sunrise behind the moon and over the clouds was a reward that made the strenuous 6 hour hike more than worthwhile. I stayed behind on the last leg, because the very tip of the volcano is a dangerous hike through ash. At that point I was grateful for my language skills because of the interesting chats I had with fellow hikers. When there was moments of silence I looked out on Gunung Lawu, Merbabu, Sumbing, and Sindoro breathed in the fresh air and was completely content with my time in Indonesia and life in general.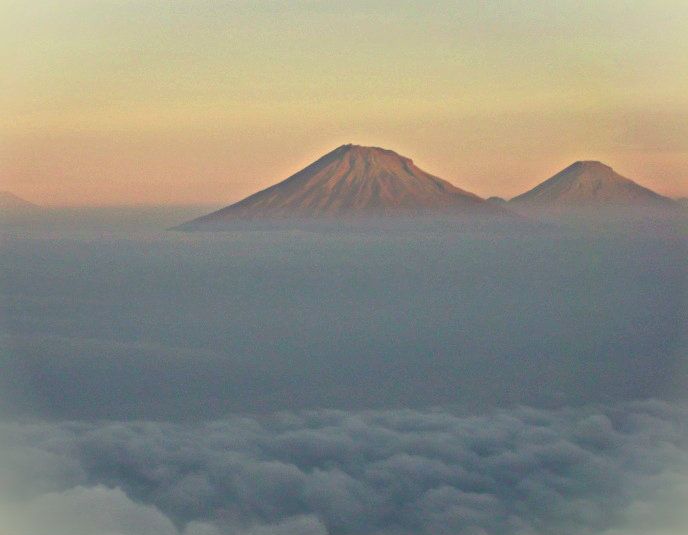 There endless things to see and experience here, but not enough time! Now that this chapter has ended, I'll be off to Cambodia for a family visit and then back to Canada and reality. I hope I can make it back to this beautiful country in the future. Actually, I know I will make it back in the future, so....sampai jumpa!